My rating: 5 of 5 stars
Genre: Historical Fiction
Gyasi's sweeping narrative traces forward the lineage of a fictional family in Africa from the beginning of the slave trade to their descendants in modern day America. I still can't fathom the width and breadth of racism in this country, or the damage done to the very real people that were enslaved. Within the pages of this book, as in real life, it is the resiliency of the human spirit in the face of staggering abuse that inspires me to fill my lungs again: to trust a little more in my humanity, to scream louder on behalf of my peers. Homegoing is a story of how we got to where we are. It's an astonishing work of art that reels your heart in and then breaks it with reality, over and over again. And yet, somehow, this book still felt warm and inviting in my hands. I made friends, if only to loose them – I made good, good friends.
Riverine: A Memoir from Anywhere But Here by Angela Palm
My rating: 4 of 5 stars
Genre: Non-fiction, Autobiography, Memoir
The palpable attraction – shit, the painfully obvious love – between the author and her incarcerated childhood neighbor, Corey, continues to tear at my heart days after I have put down this refreshingly honest memoir. This relationship is the heartbeat of the book. It pulses through Palm's description the Kankakee's dirty water, it wafts above the cheesesteak fries she serves. How can someone you love do something terrible and why doesn't this make your love disappear? This is a question with which I am acutely familiar. I have rarely seen this internal conflict rendered well, if at all, in literature and this has often made me feel very alone. The sensitive display of such utterly unsolvable conflict is the crowning achievement of this book.
Then there is the drought that is the middle of this narrative, in which I slogged through page after Corey-less page, bored and yearning. Perhaps this is a reflection of the author's own life. Or perhaps the things we silently year for and grieve come alive on the page in a way that alive things do not. It's an excusable offense for a first book. And because Palm's voice is searching and authentic, and because her writing is good, I persevered. And I was rewarded by rich, lightening-veined descriptions of her prison visit at long last. These pages haunt me still, as does the cognitive dissonance within them. I will eagerly consume whatever Palm writes next.
My rating: 5 of 5 stars
Genre: Essay, Feminism, Gender, Race
You should know before you read this review: I'm fairly obsessed with Roxane Gay. I read everything she writes, listen to all the podcasts on which she appears. Basically, I would like to be her when I grow up. Her essays are intelligent, insightful, funny, bold. But more than that, she illuminates concepts in a way I have never experienced before; she puts words to things that occupy a wordless space in my heart. These essays are jam-packed with cultural criticisms and they are motherf*cking magic.
No, not magic. Human. These essays are intellectual AND deeply personal. They're observing but they're also participatory. Gay scathingly criticizes immature, one-dimensional pop-culture sensations like "Fifty Shades of Gray" and "The Help" while baring her humanity: Fifty Shades turned her on at times, she cried multiple times during "The Help". She cops to her own [understandable] bias against white people writing black characters. She writes about the sexual assault that preceded her own weight gain and her desire to occupy more space with the same frankness which which she calls out the elitism of "Girls" (and no, you don't need to be familiar with pop-culture to understand her work). The valence of both her strength and vulnerability startle, inspire and challenge and, as you might have gathered, I am star-struck silly with delight.
All the Birds in the Sky by Charlie Jane Anders
My rating: 3 of 5 stars
Genre: Science Fiction, Fantasy
This is not a life-changing book, but it's fun. It's really fun. It reads like YA lit to me, and if I were Anders' editor, I would have advised her to strike the sex scene, shaved balls and all, and sell it as such. I loved how easy this was to read and, in equal measure, hated its simplicity (I felt similarly about Station Eleven, minus the love – and fully excused it in The Strange and Beautiful Sorrows of Ava Lavender precisely because it was sold as Young Adult). While it's fun to read about hipsters at parties, dialog that begins with "She was like…" makes me want to rip my nails out one by one. That said, Anders' creativity is mesmerizing and I kept coming back for more. Please make this into a movie so I can actually finish it.
My rating: 5 of 5 stars
Genre: Poetry
Bone cleaved my heart in two halves and I let it, only to discover ripe fruit inside, dripping with exquisite sensitivity; that which I thought was was my heart was a brown and shriveled walnut-matte shell. Yrsa Daley-Ward's poetry and prose is a courageous, bold, feminine, authentic to distraction – equal in power only to the work of nayirrah waheed and Warsan Shire. Her words burst with pain, with joy, with that thing in yourself you have neglected, with Yes (and also with no). I feel like I know her intimately. More than that, I feel like she knows me.
Nejma by Nayyirah Waheed
My rating: 5 of 5 stars
Genre: Poetry
Like salt, these poems will invite you to your core. Be afraid. Be courageous. Dive.
every poem. here.
is an unwrite.
of everything that has been written in me without. permission.
-nayyirah waheed, nejma
High Tide in Tucson: Essays from Now or Never by Barbara Kingsolver
My rating: 4 of 5 stars
Genre: Essay, Nature , Memoir
Rich with earth and hot like a desert wind, High Tide In Tuscon emerges – to my surprise – as one of my favorite Kingsolver books. Packed, as usual, with delightful observations about the natural world, it feels like Kingsolver is in her natural habitat in these essays – or, at least, can't wait to get back to it: her cowboy boots, her inquisitive toddler, the post-divorce smattering of reliable, workaday friends. With intriguing personal inquiry on why she chose to move to the desert and oft-painful personal realizations about how to be a good parent to an small but emerging human, this collection of essays felt like a portal to my true home, nestled in the dry-sage earth. If you like Kingsolver's fiction, this will make you feel like she's your friend.
The Art of Memoir by Mary Karr
My rating: 5 of 5 stars
Genre: Non-fiction, Memoir, Writing
This is a memoir about the finding of one's own voice; an uncomfortable and necessary task if one wants to be free from the narratives thrust upon her. I do. And this book spoke deeply to those still-bound parts of me. I had not read any of Karr's memoirs when I read this book, but it stood on its own. Karr is ruthlessly honest (but measured); articulate (but playful). I will read this again and again.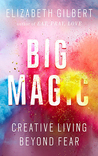 Big Magic: Creative Living Beyond Fear by Elizabeth Gilbert
My rating: 3 of 5 stars
Genre: Non-fiction, Creativity, Self-help
I feel exactly the same about this book as I did about The Signature of All Things: bored. I didn't learn anything new, I wasn't moved or changed or challenged. I just went on a comfortable ride through a comfortable climate and was reminded, comfortably, to keep at it – but only if I want to. The only useful part of this book was Gilbert's policy of greeting rejection letters by sending them back out into the world. Her childhood fearfulness was interesting, but as usual, she shies away from difficult subjects (also her parents are perfectly supportive, yawn). It was mildly validating in its encouragement of creativity and for someone balanced on the ledge of should-I-or-shouldn't-I-create, this book could be a balm for teetering legs. Big Magic can be summarized in one clause: Everyone who wants to create should create.