Men Explain Things to Me by Rebecca Solnit
My rating: 5 of 5 stars
Genre: Essays, Feminism
THIS is Solnit's genre: the critical, feminist essay; this is where she absolutely soars. This thin tome was a ecstatic and sobering journey for me: ecstatic because this particular marriage of style and content is exactly what I want to write and sobering because these essays brought home frightening and painful it can be to be a female in this world. I left this book feeling immense gratitude to Solnit for its writing. In it she knits together concepts, facts, and feelings about feminism that had eluded me until now. I felt somehow validated, as if she had said to me personally, "Hey, this thing you feel? It's real." If you're a woman, you should read this. If you know a woman, you should read this. If your mother was a woman, if you're attracted to women, if you are repulsed by women, if women frighten you: you should read this book. But only if it calls you. Solnit's writing style is incredibly unique. I've found I either consume it like living water or I can't drink it at all.


Between the World and Me by Ta-Nehisi Coates
My rating: 4 of 5 stars
Genre: Autobiography, Memoir, Race
Composed as a letter to his son, Coates speaks with maturity and tenderness about the treatment of black bodies in America, both when he was growing up and in the world his son is growing into now. This is a rich and painful peak into the realities of racism as experienced by black boys and men. I have painfully little personal knowledge of this subject; this book is a gift for those of us so buffered by privilege, a glimpse into a world I only read about on the news. Coates' self-awareness and self-inquiry draws the reader into discussion, as if he is having this conversation with you, personally. This is a beautiful, important book that everyone should read.

The Shell Collector by Anthony Doerr
My rating: 5 of 5 stars
Genre: Contemporary Fiction, Short Stories
It seems unfair to all other writers than anyone could possess as much talent as Anthony Doerr. Every story in this collection is an unfathomable work of art. I cannot remember the specifics of the stories so much as their colors, textures, and scents. I tried hard to find something to criticize about this book and failed, obviously.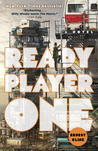 Ready Player One by Ernest Cline
My rating: 3 of 5 stars
Genre: Science Fiction, Dystopian, Yong Adult
This is a fun book. Not great literature, but very enjoyable. Playful and unexpectedly intricate, Cline takes you for a ride like no other. Dystopian fiction holds a special place in my heart. Someone should make this into a TV series.